Workplace Accident Clean Up
Helping Victims of
Crime & Tragedy

In Ohio, Pennsylvania, Michigan & West Virginia
---
Do you need Death Cleanup Services?
Industrial Accidents
Workplace Accidents
Construction Accidents
Trauma Accidents
Death Scenes
State Licensed
ABRA Certified Technicians
15+ Years Experience
Licensed & Insured
Un-Marked Vehicles
---
What you will need when you call us...
Property address of where the cleanup is needed.
Contact person or family member's information.
General idea of what happened.
WHY CHOOSE BIO CLEAN SERVICES?
Police Recommended
Licensed & Insured
ABRA Certified Technicians
Insurance Specialists
Locally Owned
15 + Years Experience
Do You Need Workplace Clean Up?
Workplace accidents or incidents are a common occurrence and Bio Clean Services is here to professionally recover any work place accident or incident with care and understanding. Whether your work place has just experienced a tragic employee accident or worse- work place violence due to a crime scene shooting or employee injury or death, Bio Clean Services can help. Bio Clean Services is your local crime and death scene professional service that is locally owned and operated by Sev Stephens, with over 10 years experience in crime scene, blood and biohazard cleanup involving the work place. Bio Clean Services has experience removing blood scenes from work places such as; convenient stores, machine shops, assembly factories, restaurants, office buildings, and many others. No work place accident is ever the same and having multiple years cleaning and decontaminating biohazards from the work place makes Sev Stephens and Bio Clean Services fully qualified to handle any situation.
Bio Clean Services is prepared to handle any industrial accident, workplace incident involving blood, tissues, body fluids that require biohazard cleanup at a work site.
Let Bio Clean Services eliminate bloodborne pathogen hazards at your workplace, as well as any OSHA liability regarding improper employee cleanup of biohazards.
Beware of NON-local accident cleanup services. Due to internet advertising many biohazard cleanup companies try to pass themselves off as local when they are NOT! Hire local, hire Bio Clean Services!
Bio Clean Services has all required OSHA protective equipment needed to recover an incident at a job site.
"Thank you for providing excellent services during a horrific time in our lives. My family will always be grateful."

Matt S. - Michigan
---
"We deeply appreicate the compassion your staff showed our family during a very difficult time."

Dorothy B. - Ohio
---
"Thank you for providing the services that you do. When I was told that I would have to hire a professional company that provides suicide cleanup I didn't know what to do. Your company helped in so many ways during this horrible time and we are grateful to have found you."

Erik R. - West Virginia
Why Law Enforcement Officials
Recommend Bio Clean Services
---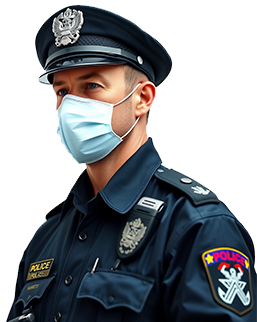 Experienced – Proper Cleanup
Licensed / Insured
Sensitivity of Situations
State Registered
Legal Biohazard Disposal
ABRA Certified Technicians
Local In-Town Service
Helps Families in Need
Very Good at What We Do
Fast 2-3 Hr Response Time
Unmarked Vehicles for Privacy
Discreet Work Practices
Call now, to speak to a trained specialist!