Rodent, Bird, Pigeon, Racoon Feces & Waste Clean Up
Helping Victims of
Crime & Tragedy

In Ohio, Pennsylvania, Michigan & West Virginia
---
Do you need Animal Waste Cleanup Services?
Cats-Dogs
Rats – Mice
Skunks – Bats
Raccoons – Possums
State Registered
Licensed & Insured
15+ Years Experience
Un-Marked Vehicles
---
What you will need when you call us...
Property address of where the cleanup is needed.
Contact person or family member's information.
General idea of what happened.
WHY CHOOSE BIO CLEAN SERVICES?
Police Recommended
Licensed & Insured
ABRA Certified Technicians
Insurance Specialists
Locally Owned
15 + Years Experience
Do you need Animal Waste Cleanup Services?
Bio Clean offers animal, pet, pigeon, raccoon, bat and rodent odor, urine and waste cleanup services including bio-hazardous waste disposal.
If you find piles of mouse like fecal material in your attic or on the ground outside your house, then you probably have bats. Bats defecate before they enter your home and below where they roost for the day. Routine guano removal should be approached with a degree of caution. They can carry a fungus known to cause Histoplasmosis. Don't breathe the feces and avoid contact with them.
You can distinguish between bat droppings and mouse droppings in two ways. First, bat droppings tend to be clustered as they will pile up below where the bat is roosting. Second, bat droppings will have a shiny speckled appearance (from all the insect wings) and will crumble like dust when touched. Mouse droppings on the other hand, tend to be scattered about and become hard when dry. Bats may also carry rabies and should not be handled.
"Nice job guys! I had no idea how to remedy this problem and you were fast, professional and affordable."

Brad R. - Pennsylvania
---
"Thank you for providing excellent services during a horrific time in our lives. My family will always be grateful."

Matt S. - Michigan
---
"We feel blessed to have found such a great team to help in bad situations, you eased our minds and made sure we were protected."

Frank G. - Michigan
Why Law Enforcement Officials
Recommend Bio Clean Services
---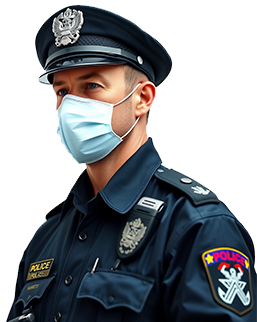 Experienced – Proper Cleanup
Licensed / Insured
Sensitivity of Situations
State Registered
Legal Biohazard Disposal
ABRA Certified Technicians
Local In-Town Service
Helps Families in Need
Very Good at What We Do
Fast 2-3 Hr Response Time
Unmarked Vehicles for Privacy
Discreet Work Practices
Call now, to speak to a trained specialist!