Tear Gas Clean Up Services
Helping Victims of
Crime & Tragedy

In Ohio, Pennsylvania, Michigan & West Virginia
---
Do you need Tear Gas Cleanup Services?
Property Owners
Landlords
Property Management
City Municipalities
Condo Associations
State Registered
Licensed & Insured
15+ Years Experience
Police Recommended
Un-Marked Vehicles
---
What you will need when you call us...
Property address of where the cleanup is needed.
Contact person or family member's information.
General idea of what happened.
WHY CHOOSE BIO CLEAN SERVICES?
Police Recommended
Licensed & Insured
ABRA Certified Technicians
Insurance Specialists
Locally Owned
15 + Years Experience
Call Bio Clean Services if your property needs tear-gas cleaned up! Tear gas is a chemical substance used by law enforcement agencies as a non-violent means of extraction in a variety of ways such as; riot control or to force the surrender of a suspect of fugitive confined in a building. Tear gas clean up can be very difficult and hazardous for people to clean up and remove themselves. Tear-gas cleaning is not a simple cleanup that can easily be removed by following directions off the internet. Bio Clean Services is a locally based crime scene cleaning company the specializes in tear gas cleanup and removal from homes and businesses. If your property needs tear gas removed due to a crime scene, police standoff or other crime from an apartment, condo, home or business you can depend on Bio Clean Services to come thru for you. If property insurance is going to be used for the cost of the tear gas cleanup we at Bio Clean Services can help with that as well, due to our experience working with insurance companies for tear gas damage cleanup.
Self cleanup of tear gas from crime scenes is not recommended, and virtually impossible unless you have the proper tools and safety equipment. Professional cleaning is necessary to remove all traces of tear gas contamination which can seep into walls and other surfaces. Movement will cause the tear gas irritant to become airborne and cause watery eyes and respiratory distress.
CN and CS are the most widely used versions of tear gas, but around 15 different types of tear gas have been developed worldwide. CS has become the most popular tear gas due to its strong effect and lack of toxicity in comparison to other versions of tear gas chemical agents. Persons who have been in contact with CS tear gas experience the effects of vomiting and burning sensation of the skin.
The tear gas chemical reacts with moisture on the skin and eyes, causing a burning sensation and the immediate forceful shutting of the eyes. Reported effects can include tears streaming from the eyes, running nose full of mucus, burning in the nose and throat areas, disorientation, dizziness and restricted breathing. In highly concentrated doses of tear gas contamination it can induce severe coughing and vomiting.
Beware of NON-local tear gas cleaning companies. Due to online advertising many teargas cleaning companies try to pass themselves off as being local when they are not.
"We feel blessed to have found such a great team to help in bad situations, you eased our minds and made sure we were protected."

Brad R. - Pennsylvania
---
"Thank you for providing excellent services during a horrific time in our lives. My family will always be grateful."

Matt S. - Michigan
---
"We feel blessed to have found such a great team to help in bad situations, you eased our minds and made sure we were protected."

Frank G. - Michigan
Why Law Enforcement Officials
Recommend Bio Clean Services
---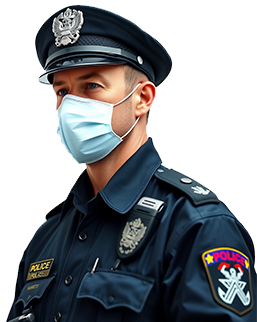 Experienced – Proper Cleanup
Licensed / Insured
Sensitivity of Situations
State Registered
Legal Biohazard Disposal
ABRA Certified Technicians
Local In-Town Service
Helps Families in Need
Very Good at What We Do
Fast 2-3 Hr Response Time
Unmarked Vehicles for Privacy
Discreet Work Practices
Call now, to speak to a trained specialist!