Biohazard Vehicle Cleaning Services
Cleaning
Bio-Hazards, Blood, Body Fluids

from Cars, Boats & RVs
In Ohio, Pennsylvania, Michigan & West Virginia
---
Do you need Vehicle Cleanup Services?
Crime Scenes in Vehicles
Vehicle Accidents
Trauma / Assult
Homicides
Disinfect & Odor Removal
State Registered
Licensed & Insured
Un-Marked Vehicles
Police Recommended
Understanding Staff
---
What you will need when you call us...
Property address of where the cleanup is needed.
Contact person or family member's information.
General idea of what happened.
WHY CHOOSE BIO CLEAN SERVICES?
Police Recommended
Licensed & Insured
ABRA Certified Technicians
Insurance Specialists
Locally Owned
15 + Years Experience
Do You Need Vehicle Scene Cleanup Services?
Bio Clean Services performs vehicle biohazard cleanup services for all types of cars, trucks, motorcycles, busses, boats, etc. Biohazards such as; blood, bodily fluids are removed from such incidents as vehicle accidents, assaults or suicides. After the removal of biohazard contaminated materials have been performed the vehicle is thoroughly disinfected and treated to provide a clean and safe environment.
Utilizing the most advanced equipment and cleaning techniques, Bio Clean Services also specializes-in odor removal from cars, trucks, boats, vehicles. Vehicle blood cleanup can either be performed on-site at a customer's location or at our facility. We routinely transport vehicles to our facility for complete body fluid cleanup and repair of any damages, which could include body damage and replacement of interior parts.
Bio Clean Services is locally based, and owned by Sev Stephens who has been decontaminating biohazards and fluids from vehicles such as; cars, trucks, busses, airplanes, taxi cabs, trolleys, trains, subways, motor home – recreational vehicles, etc for 10 years. We have all equipment and cleaning supplies necessary to perform a quality biohazard decontamination service.
Beware of NON – local biohazard cleaning companies. Due to internet advertising many biohazard service companies travel long distances to a scene. Trust who you hire, Bio Clean Services – qualified and certified biohazard cleaning service that depends on their local reputation for continued service.
Biohazards such as: blood, bodily fluids, and tissues are contained, removed and disinfected to provide a clean and safe environment. Potentially harmful residues are removed and disinfected according to health and OSHA regulations to ensure safe, thorough and complete disinfecting.
"Nice job guys! I had no idea how to remedy this problem and you were fast, professional and affordable."

Brad R. - Pennsylvania
---
"My family and I deeply appreciated your prompt thorough services which you rendered with respect and courtesy"

Janice H. - Ohio
---
"Thank you for providing excellent services during a horrific time in our lives. My family will always be grateful."

Matt S. - Michigan
Why Law Enforcement Officials
Recommend Bio Clean Services
---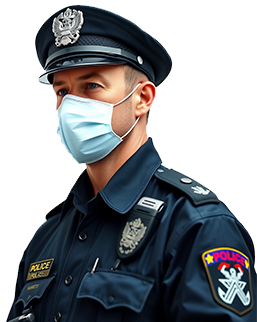 Experienced – Proper Cleanup
Licensed / Insured
Sensitivity of Situations
State Registered
Legal Biohazard Disposal
ABRA Certified Technicians
Local In-Town Service
Helps Families in Need
Very Good at What We Do
Fast 2-3 Hr Response Time
Unmarked Vehicles for Privacy
Discreet Work Practices
Call now, to speak to a trained specialist!